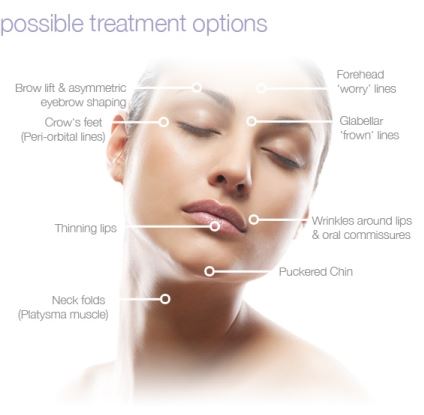 Some celebrities want to eliminate the signs of aging, specifically creases and wrinkles, without undergoing blepharoplasty, brow lifts, or facelifts. Botox injections can effectively correct many signs of aging without requiring a long recovery process following the procedure. Generally, you need to avoid strenuous activities for six hours following the injections and then you're back to your normal routine.
For a busy celebrity, being able to get back to work the same day is important. With filming schedules often lasting all day combined with guest appearances on various talk shows, Botox is an easy way to maintain a youthful look without having to take weeks off. Here are 15 celebrities who admit they've used Botox.
1. Jennifer Aniston: Jennifer Aniston gained national attention for her role in the hit sitcom Friends. She admits she's tried Botox, but in the end calls it a "slippery slope" and believes that a healthy diet and lots of water are the best way to look radiant.
2. Kim Cattrall: After hitting her 50s, Kim Cattrall, best known for her work in Sex and the City, admits she uses Botox to keep the creases between her eyebrows away. She's scared of cosmetic surgeries and relies on Botox as being a safer, non-surgical solution.
3. Simon Cowell: Popular host of American Idol and The X Factor, Simon Cowell told Radio Times of his beauty regimen, which ranges from daily baths in Weleda's Citrus Refreshing Bath Milk to routine Botox injections. He feels that believing these beauty rituals work makes him "feel better."
4. Courteney Cox: Courteney Cox entered the scene in a Bruce Springsteen video and gained popularity playing Monica in Friends. She admits that she's "open to trying to prolong the inevitable" and uses Botox to hide the signs of aging.
5. Jamie Lee Curtis: Daughter of Tony Curtis and Janet Leigh and known for her work in the Halloween movies, Jamie Lee Curtis says she's had liposuction and tried Botox and feels that it's better to just accept the changes that come with aging.
6. Jennie Garth: Former star of Beverly Hills 90210 and contestant on Dancing with the Stars, Jennie Garth's first experience with Botox didn't go as well as hoped when the doctor injected her with too much. She still believes in the benefits of Botox but asks her doctor to use a smaller amount.
7. David Hasselhoff: Star of the hit 1980s show Knight Rider and then Baywatch, David Hasselhoff denies ever undergoing cosmetic plastic surgery, but his rep admits he's "had a little Botox here and there."
8. Nicole Kidman: After receiving Botox injections, Oscar-winning actress Nicole Kidman said she couldn't move her face and wouldn't go through that again. She credits her radiant looking skin on regular use of sunscreen and the fact that she does not smoke.
9. Jenny McCarthy: As a former Playboy playmate and actress, Jenny McCarthy avoids the signs of aging by receiving small amounts of Botox. She says her doctor uses very little so that she can still move her face.
10. Sharon Osbourne: Host of a talk show and star of her own reality show with rocker husband Ozzy Osbourne, Sharon Osbourne credits Botox as being "one of the best things that's ever been created for cosmetic surgery."
11. Gwyneth Paltrow: Gwyneth Paltrow says she's tried Botox, but she stopped because it made her look too much like Joan Rivers. She felt that she looked "crazy" after undergoing Botox injections.
12. Sir Cliff Richard: Singer of a number of hits between the 1950s and 1970s, Sir Cliff Richard uses Botox and plastic surgery to retain his youthful looks. As he's always held the nickname "Peter Pan," he does what he can to look the part.
13. Kelly Ripa: Host of a morning talk show, Kelly Ripa gets Botox injections in not only her face but also in her armpits. Kelly gets the armpit injections to help avoid excessive sweating. She also undergoes Botox injections to make her eyes "look a little more open on TV."
14. Joan Rivers: Comedienne and host of Fashion Police, Joan Rivers is probably one of the most outspoken celebrities who uses Botox. She feels women should "be able to get Botox and not look like a Sharpei."
15. Vanessa Williams: In her memoir, Vanessa Williams states that she uses a doctor who gives her Botox injections "gently…to be able to be expressive" in her acting roles.
Botox is a safe, effective technique for ridding the face of creases and winkles. The injections last up to five months. Read more about Botox injections on Dr. Sheldon Kabaker's website. Dr. Kabaker offers Botox and other non-surgical facial rejuvenation procedures in his Oakland, California, office. To schedule a consultation with the San Francisco facial plastic surgeon, call 1-800-400-7700.