Since 1984, Dr. Kabaker has been a fellowship director for fellowships in facial plastic surgery sponsored by the American Academy of Facial Plastic and Reconstructive Surgery. The present fellowship is co-directed by Dr. Corey Maas in San Francisco. The outstanding young physicians you meet who assist us in surgery have, as a minimum, completed a five-year residency in otolaryngology-head and neck surgery, before they spend a year in this fellowship program where they observe, assist, and prepare the patient for surgery. In addition, they provide a good deal of the postoperative care which allows us to be much more effective and efficient with our work. The fellows participate in most of the surgeries and help to take call 24 hours/day. It is comforting for patients to know that if they have any concerns they have telephone response from a surgeon who is familiar with their surgical procedure. These fellows are chosen from a matching program and almost all are in the top quarter of their classes in medical school and are from training programs that accept only the highest qualified physicians.
Dr. Jason Dudas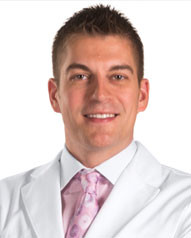 Dr. Jason Dudas was born and raised in Erie, Pennsylvania. He attended the Ivy League University of Pennsylvania, and graduated with Magna Cum Laude honors in Biology and Spanish in 2002. It was at that time that he became interested in Plastic Surgery and began scientific research related to the field. He attended medical school at the University of Pittsburgh, where he graduated in 2007. During that time he also completed a National Institutes of Health (NIH) research fellowship, studying the use of stem cells in Plastic Surgery.
Dr. Dudas then completed his Plastic Surgery residency at Washington University in St. Louis, where he was trained in all areas of aesthetic and reconstructive surgery of the face, breast, and body. He then relocated to the Bay Area to gain additional fellowship training in Facial Plastic Surgery. Dr. Dudas is excited to establish his practice in the area, offering patients a full complement of surgical and non-surgical procedures to enhance and restore their appearance, including breast augmentation, breast lift, abdominoplasty (tummy tuck), and liposuction. He brings with him extensive knowledge of the science behind plastic surgery, years of experience in cosmetic and reconstructive breast and body surgery, and specialized training in aesthetic facial plastic surgery.
In his leisure time, he enjoys traveling, foreign language, spending time with friends and family, and exploring his new home, San Francisco. Dr, Dudas will be practicing cosmetic plastic surgery in the Bay Area. During his time on our clinical staff here in Oakland he performed body cosmetic surgical procedures such as breast augmentation, abdominoplasties (tummy tucks) and body liposculpture. He is currently practicing plastic surgery in multiple offices in the Bay Area.
Dr. Natalie Attenello
Like all of our fellows since 1984, Dr. Attenello serves as first assistant on all of Dr. Kabaker's surgeries.
Dr. Attenello is originally from Southern California where she was born and raised in Riverside, CA. She thencompleted four years of undergraduate education at the University of California, Berkeley where she fell in love with the exciting academic environment and vibrant culture of the bay area. Next she moved to the east coast where she completed her Master's degree at Georgetown University in Washington, DC and her medical education at Drexel University College of Medicine in Philadelphia, PA. Upon graduation, she then moved back to Los Angeles to complete her training in Otolaryngology – Head and Neck Surgery at the University of Southern California under nationally and internationally recognized faculty. While at Southern California she completed 5 years of residency training.
During her leisure time with her husband, she enjoys traveling, art history, and exploring all that the bay area has to offer.
Dr. Mike Sheu
By the time Dr. Sheu reached the fourth grade, he had already lived in two different countries and four different states. He considers Diamond Bar, California, however, to be his home. His academic endeavors have also led him all over the country, including a prior stop in the Bay Area. He began his higher education at Johns Hopkins University in Baltimore, Maryland, where he was a Dean's list student and earned a degree in Biology in 2000. After his graduation, he was awarded a yearlong research fellowship by the National Institutes of Health (NIH) where he worked on an offshoot of the Human Genome Project. Before dedicating his career to the field of medicine, Dr. Sheu spent two years of graduate studies at the University of California, Berkeley where he earned his Master of Public Health, followed by a Master of Science degree at Georgetown University. He then enrolled at Case Western Reserve University School of Medicine in Cleveland, Ohio, where he graduated from in 2008. Upon graduation, he moved to the heart of New York City, where he completed his residency training in Otolaryngology – Head & Neck Surgery at New York University. In his free time he enjoys cooking, fishing, following his favorite sports teams, and enjoying new restaurants. Dr. Sheu's future plans may include returning to practice near his family home in Southern California, although he looks forward to opportunities in the greater Bay Area. Dr. Sheu has since joined a practice in Torrence, Ca as a facial plastic surgeon.
Dr. Jason Champagne
Our fellow for July 1, 2011 to July 1, 2012 is Dr. Jason Champagne. Dr. Champagne is a native of Raceland, Louisiana, which is located southwest of New Orleans. After graduating from high school, he attended Louisiana State University in Baton Rouge where he received both a Bachelors degree in Zoology and a Masters degree in Natural Sciences. He then went on to study medicine at the Louisiana State University Health Sciences Center in New Orleans, graduating in the top quartile of his class in 2006. From there, he attained a residency in Otolaryngology-Head and Neck Surgery at Georgia Health Sciences University and completed training under nationally and internationally recognized faculty in June of 2011. During his leisure time, Dr. Champagne enjoys hiking, playing guitar, and cooking, especially Cajun dishes like jambalaya and gumbo.
Dr. Kartik Nettar
Our fellow for July 1, 2010 to July 1, 2011 was Dr. Kartik Nettar. Dr. Nettar is a native of the Bay Area, having grown up his entire life in the Almaden Valley of San Jose. He subsequently graduated from Leland High School and attended the University of California at Los Angeles on a full Alumni Scholarship. He graduated with honors in three years in 2000 and attended the Mount Sinai School of Medicine of New York University in Manhattan. There he studied medicine and Head and Neck Surgery under some of the pioneers and leaders of the field. His performance there earned him a coveted residency in Otolaryngology – Head and Neck Surgery in one of the world's preeminent and respected medical centers, Washington University in St. Louis School of Medicine. He completed his residency training in June of 2010 and has returned home to the Bay Area with his wife, Niyati Vyas Nettar, an attorney specializing in investment management at the Securities and Exchange Commission. Together, they enjoy traveling, cooking, reading and exploring all that the Bay Area has to offer.
Lieutenant Colonel Kenneth Yu
Our fellow for July 1, 2009 to July 2010 was Lieutenant Colonel Kenneth Yu whose last position was Chief of Head and Neck Surgery at Travis Air Force Base. Dr. Yu is a 1991 graduate (top 10% of class) of the U.S. Air Force Academy, a 1995 graduate of Boston University Medical School, and a 2002 graduate of the UCSF Otolaryngology-Head and Neck Surgery residency program. He is Board Certified by the American Board of Otolaryngology. In 2007 he served in Operation Enduring Freedom in Afghanistan. Dr. Yu will return to the Air Force and complete his obligations in the military which are to the year 2016. Dr Yu and his wife, Annette, have two young sons. His next position will be Head of Facial Plastic Surgery at Wilford Hall Medical Center in San Antonio, Texas. Dr. Yu plans to retire from the Air Force in 2016 and enter a private practice of facial plastic surgery and hair transplantation.