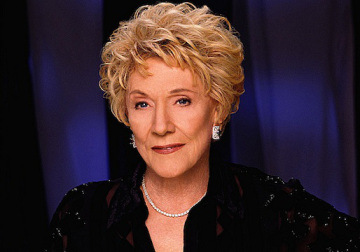 On May 8, 2013, actor Corbin Bernsen announced the death of his mother, The Young and the Restless star Jeanne Cooper. Born in 1928, Jeanne Cooper first appeared in television and movies in the early 1950s. She took a role with The Young and the Restless playing Katherine Chancellor in 1973, a role she would hold until her death. Her character became the matriarch of the fictional town of Genoa City, a town where she was friends to many of the key players and enemy to others.
In 1984, the actress made history when she suggested the producers of The Young and the Restless add her real-life facelift to her character's storyline. As an actress since the 1950s, Jeanne Cooper walked by a mirror and was unhappy with the signs of aging and opted for a facelift.
Her character, Katherine Chancellor, underwent the same facelift that the actress did. The entire facelift was videotaped and used in the television show. When the bandages came off revealing Jeanne Cooper's new face, the cameras were rolling and captured her reaction. These scenes were broadcast to thousands of fans.
Since that day, others have opted to air parts of their facelift procedures on reality television shows. Gene Simmons of Kiss and his girlfriend Shannon Tweed both had facelifts on the reality show Gene Simmons: Family Jewels. Shows like Dr. 90210, Extreme Makeover and The Swan also show people improving their appearance or correcting injuries through plastic surgeries performed on television. But it was Jeanne Cooper who led the way for all of these televised surgeries.
Plastic surgery isn't just for celebrities anymore. According to the American Society for Aesthetic Plastic Surgery, more than 10 million cosmetic procedures were completed in the United States in 2012. Facelifts are most popular with those aged 65 or older.
Are you aging as gracefully as you want? Are you curious to see what a face or neck lift can do for you? Schedule an appointment at the Oakland, CA, office with facial plastic surgeon Dr. Sheldon Kabaker today. You can reach the office at 800-914-4247.