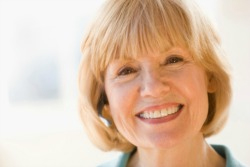 Strictly from popular culture standards, a high hairline is considered to be a mostly masculine trait. When women inherit this hair pattern, they tend to cover their broad forehead space with bangs, which can be frustrating for some. It's difficult to style the hair to hide a raised hairline, sometimes known as Tudor hair for the royal family that made it stylish in the 1500s and 1600s. Today, however, high hairlines and broad foreheads are no longer fashionable. For those tired of covering up with bangs, there is hairline lowering for women, a hair repositioning procedure specifically designed for these changes.
Who Needs Hairline Lowering?
Somewhere around 20 percent of all women experience difficulties with their hair thanks to a higher than average hairline. This characteristic tends to be hereditary, and measure about 6 to 9 centimeters above a line between the brows just above the nose, while a normal female hairline ranges about 5 to 6 centimeters. Even a small amount of extra distance between the hairline and brows can seem wide, leading many women to seek ways to hide or correct a high hairline.
If you've been frustrated in the past by your "large" forehead or chosen bangs to add femininity to your look, you might be a good candidate for hairline lowering. You should have a high hairline (or see it as a large forehead) as well as thick hair. You should be in good overall health and have realistic expectations about what hairline lowering can do for you. Meeting with a specialist is the best way to determine if you are eligible for hairline lowering and whether this procedure can achieve the results you desire.
What Does Hairline Lowering Involve?
There are two main ways that a hairline can be lowered through surgery: hairline lowering/forehead reduction or hair grafting. Through your hairline lowering consultation, you will work with your hair transplant specialist to design the treatment that will both suit your scalp and achieve your desired results. During the consultation, your scalp laxity, the distance between your hairline and brows, and your physical features will be considered in the decision making process. Ultimately, the choice for a procedure will be based on these factors.
If you have a forehead reduction or hairline lowering surgery, the hairline can typically be lowered one inch. Candidates for this procedure must have the right amount of scalp laxity for it to be effective. A hairline lowering/forehead reduction surgery involves the surgical removal of a portion of the forehead, with the hair-bearing scalp stretched foreword and downward before being sutured into place. The scalp must have enough laxity to be manipulated forward, thereby creating the look of a much lower hairline. This option is more cost effective and results are obtained much sooner than the alternative procedure: hair grafting with follicular unit hair grafts.
With follicular unit hair grafting, your hair transplant surgeon will harvest grafts of hair from well hidden areas in the back or sides of your head. These units will be extracted and then surgically grafted in front of your current hairline to create a new hairline closer to the brows. The graft operation can be repeated in stages to add thickness and further lowering effects over the course of several months or even years, as desired. Typically, these hair grafts will require 12 to 18 months to grow long enough to appear natural and be worn in many of today's popular female hairstyles.
Why Should I Consider Hairline Lowering?
Whether you've lived with a high hairline all your life or hair loss has led you to this, the hairline lowering procedure provides various benefits:
Look younger with hair that seems fuller
Balance your facial features with a hairline that is more proportional
Say goodbye to bangs and makeup techniques that try to hide a big forehead
Say hello to people noticing your other beautiful features now that your forehead is no longer stealing the spotlight
Get a softer, more feminine look
Gain confidence about your look and yourself
Feeling good about yourself and how you look is the key to maintaining confidence. Hairline lowering can change your outlook on your features, including your hair, eyes, and other facial characteristics. By achieving a more natural, feminine look, many hairline lowering patients are excited to try hairstyles they couldn't before, meet new people in new situations, and even advance in their career. Such an important cosmetic procedure can cause ripple effects throughout your entire life.
Where Can I Learn More About Hairline Lowering?
To find out more about how hairline lowering might help you,you might consider Dr. Sheldon S. Kabaker to guide you through the transplant process. As an Aesthetic Facial Plastic Surgeon and Hair Transplant Specialist, he also offers nonsurgical skincare treatments at his practice. He received his medical degree from the University of Illinois, College of Medicine in 1964, before serving in the US Army Medical Corps and seeking active duty in Vietnam. Dr. Kabaker has studied and taught facial plastic surgery internationally in countries including France, Spain, Italy, Germany, Israel, Mexico, Argentina, the United Kingdom, and Australia. Today, he continues to educate himself while delivering superior results to his patients. To book a consultation with Dr. Kabaker, contact his office located at 3324 Webster Street in Oakland, California,by calling (415) 379-9015.