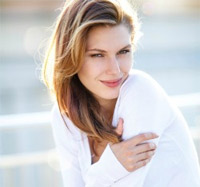 Nonsurgical anti-aging treatments are widely available these days, offering men and women many great options to achieve a more youthful look. Injectable treatments like Botox and Juvederm will work to reduce the appearance of fine lines and wrinkles, but they are vastly different treatments. Each takes a unique approach in treating various signs of aging, yet both treatments are often mentioned in the same sentence. Do you really know what the difference is? Which one is right for you? If you've been wondering whether Botox or Juvederm would be a better fit for you, here's what you need to know to make an informed decision.
Botox Is an Injectable Neurotoxin
Since its FDA approval and introduction in 2002, Botox Cosmetic has become a household name synonymous with anti-aging. It is one of the many versions of neurotoxins that are safe for injection into the human body. Although the name sounds a little frightening, Botox itself is quite harmless, providing only temporary effects against wrinkles and virtually no long-term side effects. While similar injectable treatments are also on the market, Botox remains a top choice among patients and a preferred option among facial plastic surgeons.
Botox works by relaxing or paralyzing the muscles of the treatment area but only temporarily, usually around four to six months. It does this by blocking the release of substances from the nerves that tell the muscles to move. The solution is injected directly into the muscles beneath the lines and wrinkles being treated. Once the muscle begins to relax, which happens almost instantly, these lines will start to fade and diminish in appearance. With the muscles not moving, present lines will be less visible and new lines will be prevented from forming.
When performed correctly and administered in small quantities, Botox is completely safe for facial treatment. To ensure your safety during treatment, work only with a board certified facial plastic surgeon or licensed nurse aesthetician for your treatments.
Juvederm Is a Hyaluronic Acid Facial Filler
Although there are many varieties of facial filler available to patients today, Juvederm and its various formulas rank highly on the list of popular choices. Juvederm is one of the hyaluronic acid fillers, so it is soft and smooth in texture, effective at creating facial volume, ideal as an all-purpose filler, and very long-lasting, with some patients reporting results up to one year after treatment. Hyaluronic acid is a natural protein found in the skin, so Juvederm is completely biocompatible and comes with very low risk of complications or allergic reactions.
All facial fillers share the same goal: to reduce the appearance of wrinkles and add volume where it has been lost. Juvederm, as an all-purpose filler, can treat frown lines, smile lines, Crow's Feet, the nasolabial folds and more. It can also add volume to the lips, forehead, cheeksand chin. Some patients may opt for nonsurgical alternatives to other procedures using Juvederm, such as a nonsurgical rhinoplasty or nonsurgical brow lift.
The facial filler procedure is a straightforward one, very similar in nature to a Botox injection. A nurse aesthetician will apply an ice pack to the treatment areas, as well as rubbing alcohol and a local anesthetic to clean and numb them. The filler will be injected as needed to these areas, providing a plumper look and diminishing the appearance of fine lines and wrinkles. The entire procedure lasts about 20 to 40 minutes, depending on the number of treatment areas. You should see some immediate results following your procedure, with full results visible within a few days. Some redness, irritation and swelling around the injection site are normal and will fade with time.
Choose Your Treatment Today
Botox and Juvederm can both offer tremendous benefits to patients. Let Dr. Sheldon S. Kabaker guide you through the process to plan the right treatment plan to address your own concerns. As an Aesthetic Facial Plastic Surgeon and Hair Transplant Specialist, he also offers nonsurgical skincare treatments at his practice. His many accomplishments includethe San Francisco Bay Area's most experienced Facial Plastic Surgeon, founder and director of California's longest standing office surgery facility, and Past President of International Society of Hair Restoration Surgery (ISHRS).Dr. Kabaker has studied and taught facial plastic surgery internationally in countries including France, Spain, Italy, Germany, Israel, Mexico, Argentina, the United Kingdom and Australia. Today, he continues to educate himself while delivering superior results to his patients. To book a consultation with Dr. Kabaker, contact his office located at 3324 Webster Street in Oakland, California, by calling (415) 379-9015.