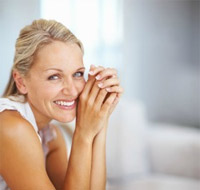 The experience of facial rejuvenation might look different for everyone and may include a variety of both surgical and nonsurgical procedures. Many facial rejuvenations start with a facelift, but they don't all end there. If you're a prospective patient considering a facelift as well as another procedure or two, the good news is that you don't have to have them one at a time. Imagine how much time you'd spend recovering if your procedures could only be done individually! When you meet with your facial plastic surgeon to discuss your facelift procedure, be sure to talk about the other aging concerns you have and what other procedures might suit your needs. Together, you and your surgeon can design the right procedural approach for your complete facial rejuvenation.
Facelift Surgery Can't Do It All
While it's true that a facelift surgery can generate dramatic anti-aging results for patients, the procedure concentrates on a very specific area of the face. The facelift procedure itself does amazing things to correct aging around the lower portion of the face. Your surgeon will use incisions along the hairline and around the ears to make changes to loose muscles, lax skin, and even excess fat. The end result is a tightened, better contoured jaw line and chin that looks up to 10 years younger. These changes form the foundation of a rejuvenated face and profile.
Certainly, however, there are many other lines, wrinkles, and aging signs to fight off from other parts of the face. A facelift surgery won't do much to help with a bulbous nose, your sagging eyelids, frown lines on your brow, or a slight chin. By adding on procedures to your facelift surgery, you can tackle several problem areas at once, spend one recovery period healing, and get some of your youth back.
Add On Facial Implants or SMAS Grafts for Improved Definition
As the face ages, volume is sometimes lost from key areas of the face. This can lead to a sunken-in look that makes patients sometimes look older than they are. Also, the lips lose volume with age.  By adding facial implants to your facelift surgery, you can add some of this lost volume back to hollow-looking cheeks or reverse the effects of a receding chin. Implants are a permanent solution to these problems and will create greater definition, improved balance to your facial structure, and correct your profile. One of our favorite add on procedures is to augment the deep grooves from the nose to the corners of the mouth (the nasolabial folds) with a graft of tissue taken from tightening the deeper structures of the face and neck, the SMAS. These grafts can last as long and sometimes longer than fat transfer and is composed of your own tissues. The same SMAS/fat grafts can also be used to augment the lips creating long lasting and naturally soft results.  Call our office for a special offer regarding SMAS grafting.
Correct Your Ears with Otoplasty
Ear surgery, or otoplasty, is often performed on children, but that doesn't stop men and women from correcting their ears as well. Otoplasty can correct protruding, irregular, or malformed ears at almost any age. Your facial plastic surgeon can reshape the ears by removing or redistributing cartilage, pin the ears to sit closer to the head, or resize them to be more proportional to your face. If you've always had qualms about the way your ears look, adding an otoplasty to your facelift surgery can help you achieve a complete new look with just one procedure.
Reverse Drooping With an Eyelid Surgery
By the time you start feeling the need for a facelift, you've probably started to notice the sagging, drooping skin above your eyelids. Another effect of time and gravity, loosening of the skin on the eyelids can make you look older, tired, and sad all the time. For some patients, the eyelid skin has become so lax that it sags over the eyelashes and impairs vision. A blepharoplasty, or eyelid surgery, is the answer to these problems and can return your aging eyelids to a more youthful state. Eyelid surgery involves the removal of excess skin and fat, so your puffiness will go away and your sagging skin is banished for good. Many patients have blepharoplasty performed on the upper and the lower eyelid together, but you can always opt for one and not the other if you so choose.
Address Upper Face Concerns With a Brow Lift
A brow lift, sometimes called a forehead lift, deals with the signs of aging that have showed up on the upper portion of the face. A facelift and a brow lift are often paired together as a way of addressing the patient's concerns around the entire face. When aging strikes the forehead area, the eyebrows begin the sag, horizontal creases form across he forehead, deep creases or "worry lines" form between the brows, and many men and women start to look angry, tired, or sad all the time. There are many different approaches to the brow lift procedure, so your facial plastic surgeon will design the right procedure for your needs during your consultation. During most brow lifts, excess skin and fat are removed, the underlying muscles are tightened, and the finished result is a more youthful upper part of the face.
Make Permanent Changes with Rhinoplasty
Another common pair-up is the facelift and the rhinoplasty. With this nasal surgery, you can make lasting changes to the structure of your nose that will better compliment your new youthful profile as well as the other features of the face. A facial plastic surgery can use either the open or closed approach for your rhinoplasty surgery in order to achieve your desired results. Rhinoplasty can change the shape, size, and structure of the nose. Many patients seek this procedure for noses that are too wide or narrow, too pointy or rounded, crooked, humped, too big or small, too curved or straight, and more. Your facial plastic surgeon might suggest adding a chin augmentation to your rhinoplasty and facelift as well, which is the best way to achieve a more balanced profile.
Are Add-On Procedures Worth It?
Of course, you can't have every single procedure mentioned here at the same time, but it is very common to have more than one surgery performed at a time. Your surgeon will talk you through your options to help you decide which procedures are right for you, as well as advise you on which procedures are safe to perform together.
There are definitely some advantages to having more than just a facelift surgery performed at your surgery date. First of all, there's no added recovery time if you have a second surgery. Your body will work to heal your facelift and your eyelid surgery, if that's what you choose, at the same time so you're back on your feet within the same timeframe. Expect your recovery time to last as long as time it takes to heal from the longest procedure.  Follow your after-care instructions carefully to make sure you are caring for both treatment areas well.
When it comes to surgical risks, having more procedures isn't necessarily increasing your risk. The same surgeon will be taking the same measures to reduce infection risks and lower any other risk factors you may have. Many of the common risks associated with facelifts are the exact same as those associated with other facial surgeries. Selecting a facial plastic surgeon wisely can do much to reduce your overall risk for post-operative complications, so choose wisely.
Plan a Multi-Procedure Surgery Today
As an experienced plastic surgeon, Dr. Sheldon S. Kabaker can guide you smoothly through the process of planning a complete facial rejuvenation. As an Aesthetic Facial Plastic Surgeon and Hair Transplant Specialist, he also offers nonsurgical skincare treatments at his practice. He received his medical degree from the University of Illinois, College of Medicine in 1964, before serving in the US Army Medical Corps and seeing active duty in Vietnam. Dr. Kabaker has studied and taught facial plastic surgery internationally in countries including France, Spain, Italy, Germany, Israel, Mexico, Argentina, the United Kingdom, and Australia. Today, he continues to educate himself while delivering satisfactory results to his patients. To book a consultation with Dr. Kabaker, contact his office located at 3324 Webster Street in Oakland, CA, by calling (415) 379-9015.