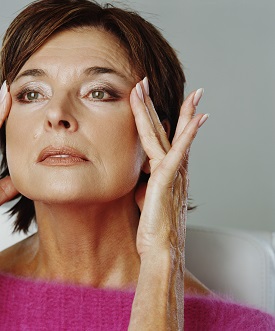 The results of the American Society of Plastic Surgeons' 2013 statistics are in. Last year, the number of eyelid surgery and facelift each increased by six percent from 2012's numbers. When it comes to restoring a more youthful appearance, these two surgeries are often the best facial plastic surgeries to consider.
Learn About Facelifts
During a facelift, your facial plastic surgeon makes incisions in the hairline near your temple, around the front of your ear, around the bottom of the ear, and back into the hairline behind the ear. With some facial plastic surgeons, a facelift addresses sagging skin and fatty tissue in the lower portion of the face, specifically the lower cheeks and jawline. Dr. Sheldon Kabaker, a Bay Area facial plastic surgeon, has specialized his facelift technique so that it also addresses loose folds of fat and skin on the neck.
Following a facelift, pain is generally minimal, but you do have some discomfort. A lot of this comes from the compression bandages that are wrapped around your neck to help reduce swelling. On the day after your facelift, this bandage is swapped for one that is less constrictive. It takes approximately a week before any sutures used to close the incisions are removed. You will still have bruising and swelling at this point. After sutures are removed, you might be able to return to work, depending on what your job entails. You need to avoid any strenuous activities for three weeks.
Learn About Eyelid Surgery
Blepharoplasty (eyelid surgery) reduces signs of aging on the upper and lower eyelids. For an upper eyelid surgery, skin and muscle are removed through an incision made in the eyelid's crease. This helps correct drooping skin that can impede your vision, make your eyelid look saggy or make you look tired. Lower eyelid surgery is best for removing bags that form below the eye. The incision is made either below the lashes or on the inside of the eyelid. Eyelid surgery can be done on the upper, lower or both eyelids.
Following blepharoplasty, mild swelling and bruising is a common side effect. You need a week off to recover, but heavy lifting and exercise may be restricted for three weeks. While your eyelids heal, your facial plastic surgeon may prescribe pain medication, especially for the first few days. Stitches that close the incisions are removed approximately five days after the surgery or will dissolve on their own if dissolvable sutures are used. It can take up to six months before the healing process ends.
For more than forty years. Dr. Sheldon Kabaker has been performing facial cosmetic surgeries. His facial plastic surgery clinic is in Oakland, within easy reach of San Francisco and surrounding towns. View his before and after facelift pictures to look at his skill at reducing the signs of aging. To schedule a consultation with the California facial plastic surgeon, call (415) 379-9015.