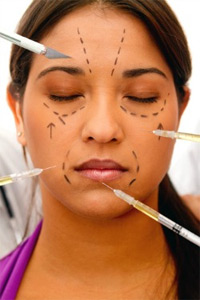 Patients of nonsurgical treatments like facial fillers often take comfort in knowing they are automatically at a lower risk for many unwanted side effects and complications. Yet, every procedure has its risks, even if it's noninvasive. Facial fillers are no exception, although many people mistakenly assume that they are totally risk-free. While they're on the lower end of the risk spectrum from an actual surgery, like a facelift, facial fillers should still be taken seriously. Know what your risks are and how to minimize them when you plan for your facial filler treatments.
The Unexpected Risks of Facial Fillers
Some of the common side effects of facial fillers include bruising, redness, swelling, slight pain and itching. These are considered normal symptoms, and they will resolve on their own as the area heals within a few days of your procedure. While these don't pose any cause for concern, there are other risks associated with facial filler patients.
Overall, facial fillers pose less serious risks with much lower occurrence rates than other anti-aging treatments. Those that patients may face tend not to be life-threatening and can often be resolved with quick medical intervention. Generally speaking, the risks of facial fillers may include:
Infection at the injection site.
Lumpiness or bumps beneath the skin of the treatment area.
Discoloration or a change in pigmentation at the treatment area.
Scarring from the needle.
Allergic reactions to the filler material.
Inflammatory skin reactions.
Blurred vision or other vision problems. It's important to note that this only occurs if your clinician injects the wrong area.
The above complications are exceedingly rare, but no patient wants to be counted among the small percentage of people who experience them. Learn more about how you can protect yourself against harmful side effects.
Understand Your Risk Factors
Before you can enjoy the benefits of a facial filler treatment, you need to know what risk factors you may have for specific concerns. You also need to communicate any concerns you may have to your facial plastic surgeon, who can develop a treatment strategy that will best serve your needs.
Talk openly about your allergies to specific medications, food, animals and anything else. This can help him or her to choose a filler agent that won't trigger an allergic response. While scarring is uncommon after a facial filler injection, you might want to mention a history of excess scar tissue just in case. An excessive scarring condition might make treatments unwise.
Patients who are experiencing any skin inflammation conditions—such as acne, an active rash, hives, or rosacea—should probably sit out treatments until they clear up, as the procedure could cause additional inflammation. Finally, patients who have a bleeding disorder may not be eligible for facial filler treatments, so consult with your facial plastic surgeon for more information.
The Type of Facial Filler Matters
There are many different kinds of facial fillers available in today's aesthetic marketplace, and no, they are not all the same. Their components, texture, and duration of effect will vary, as well as the type of treatment they perform the best.
Hyaluronic acid facial fillers are among the most popular, with Restylane and Juvederm at the top of the list. Restylane is very soft and granular, making it ideal for lip enhancement or adding volume under the eyes. It will last about eight months once injected. Juvederm has a softer, smoother texture that makes it great as an all-purpose filler that will last up to one year.
Radiesse is another popular choice, but made from hydroxlapatite instead. It's relatively firm texture is very effective in the nasolabial folds, jawline, corners of the mouth, and chin. After a touch-up visit one month after your initial injection, Radiesse can last up to two years and provide great contour in the areas of the lower face.
Finally, Artefill is made of polymethylmethacrolite and collagen derived from cows. Allergic reactions are possible, since this product comes from an animal, so a skin test is performed before your injection as a precaution. Once injected, in many of the same areas of Radiesse, Artefill will remain permanently.
Find the Right Facial Plastic Surgeon
Inexperienced clinicians can put you at a greater risk for many unnecessary complications. It is incredibly rare that facial fillers could lead to vision troubles, but it can occur if your facial plastic surgeon doesn't use the proper techniques and accidentally injects the filler into a blood vessel. Such mistakes should never occur and they won't if you choose a credentialed facial plastic surgeon who knows what to do. Reducing your risks can be as simple as making the right decision about where to go for your treatments and who to see.
Begin your facial filler treatments with a consultation. Let Dr. Sheldon S. Kabaker guide you through the process. His many accolades include the San Francisco Bay Area's most experienced Facial Plastic Surgeon, founder and director of California's longest standing office surgery facility, Past President of International Society of Hair Restoration Surgery (ISHRS), and the world's leading authority on hairline lowering surgery. He's also an internationally recognized authority on facial plastic surgery and hair/scalp reconstruction surgery, specializing in hair/scalp surgery and faceliftingas well as associated facial rejuvenation procedures.Dr. Kabaker has studied and taught facial plastic surgery internationally in countries including France, Spain, Italy, Germany, Israel, Mexico, Argentina, the United Kingdom and Australia. Today, he continues to educate himself while delivering superior results to his patients. To book a consultation with Dr. Kabaker, contact his office located at 3324 Webster Street in Oakland, California, by calling (415) 379-9015.