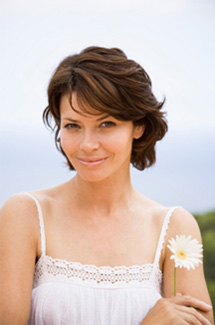 Rhytidectomy, the medical term for facelift surgery, is designed to raise tissue and skin on the lower portion of the face. This helps restore a more youthful look. While it is a popular facial plastic surgery, it is also one that many men and women do not fully understand. Here are answers to some of the most commonly asked facelift questions.
What Does a Facelift Correct?
A facelift lifts sagging skin and tissue on the lower portion of the face, specifically the lower cheeks. It also addresses sagging of the neck. Therefore, it's a good surgery if you are concerned about the appearance of jowls or a "wattle" below your jaw.
Won't the Scars Show?
With a facelift, incisions from the temples, around the front of the ear, and then back behind the ear are made after anesthesia takes effect. The surgeon lifts the skin and connecting tissue to a more youthful position and uses sutures to hold the layers in place. Excess skin is cut away and then the incisions are closed. Because the incisions are made within or at the hairline and in natural creases around the ear, scars are not noticeable. Longer hair styles are desirable to have during the early healing phases after this operation.
What Kind of Recovery is Involved?
Following a facelift, you do need to plan to take off approximately one to two weeks. While discomfort is minimal, you may experience some tightness from the swelling. At the end of the first week, you return to your facial plastic surgeon to have the stitches removed. After that, you can return to most activities, providing your job does not require any strenuous activities. About three weeks should pass before you resume any heavy exercise or work routines.
How Long Does a Facelift Last?
Typically, a facelift, when performed by a skilled facial plastic surgeon, lasts 10 years or more. But you can think of it as lasting a lifetime since it sets back the aging process by those ten years.
Why Shouldn't I Save Money With a Liquid Facelift?
Do you love the sound of a non-surgical alternative to a facelift? Liquid facelifts gained popularity as a second choice to the facelift. Instead of incisions and surgical alteration of skin and muscle tissue, dermal fillers and Botox are used to ease the appearance of lines and wrinkles. Before you sign up for a liquid facelift, you really need to stop and think about the cost. Liquid facelifts are not a cost-effective option. In fact, they need frequent touch-up work to maintain the younger appearance, so you'll end up spending more than you might expect.
Botox usually needs touch-ups after approximately five months. This means to maintain any benefitsyou must pay for Botox injections at least twice a year. Facial fillers are the other component in a liquid facelift. Hyaluronic acid dermal fillers (Juvederm and Restylane) last anywhere from eight months to a year, while Radiesse, a hydroxylapatite filler, can last up to two years.
Filler and Botox injections do not do what a facelift does. They do, however, improve facial areas that are not improved with face-lifting.
Learn more by reading frequently asked questions about facelifts. Dr. Sheldon Kabaker, a facial plastic surgeon in Oakland, California, with more than 40 years experience, is happy to answer your facelift questions during a consultation. If you want to look younger by reducing the appearance of wrinkles and sagging skin on your lower face and neck, schedule a consultation with Dr. Kabaker. Reach his Bay Area office by calling (415) 379-9015.