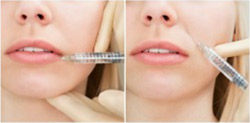 Filler injections offer a temporary and nonsurgical solution for some signs of aging. They provide patients with an alternative to facial surgeries, which means lower risks, fewer side effects, and no downtime. Since filler injections were first introduced, a wide range of brands has emerged, with various formulas targeting particular aging concerns. As a result, the filler injection treatment process has been greatly improved in recent years. If you've been considering filler injections to treat your own aging concerns, these changes might help you make your decision.
Different Types of Fillers
There are four main types of fillers available today that can each be used to treat various concerns on the face and hands: Restylane, Juvederm, Radiesse, and Artefill. Restylane uses a granular texture ideal for treating the lips and lower eyelids. Juvederm is a smoother formula of hyaluronic acid, a perfect choice for an all-around filler. Radiesse is made of hydroxylapatite and has a texture firm enough to treat tougher areas like the jaw, corners of the mouth, and chin. Finally, Artefill combines polymethylmethacrolite and collagen to permanently correct deep creases in various areas of the mid and lower face.
Numbing Agents and Filler Injections
In the early years of filler injection treatments, many facial plastic surgeons and clinicians used lidocaine and other topical numbing agents to prep the injection site. This helped to alleviate some of the pinching and discomfort of the injection and a short time afterwards. In 2010, some makers of filler injections began including numbing agents like lidocaine into their products to simplify the process and improve the experience for patients. Juvederm XC was the first to introduce formula to also include lidocaine, with the aim of creating a higher comfort level for filler injection patients.
Many New Uses for Filler Injections
As more filler injection formulas are introduced, the Food & Drug Administration has approved these products for a wide range of uses. Your facial plastic surgeon can talk with you more about the formulas and treatment areas that would most benefit your unique needs. To date, filler injections have been approved as a soft tissue filler for the following uses:
The correction of facial wrinkles, skin folds, and creases.
The restoration or correction of facial fat loss.
Enhancement of the lips and cheeks in patients over 21.
The more that medical scientists know about the body and the abilities of filler injections, the more uses that are being discovered for these products. Not all off these uses are cosmetic, either! While many medical applications of filler injections are still in the discovery stages or just beginning patient trials, there could be many new and exciting ways you could benefit from such treatments.
Learn More About Filler Injections Today
Consult with an experienced facial plastic surgeon to learn about the various types of filler injections and how you might benefit from treatment. Let Dr. Sheldon S. Kabaker guide you through the surgical process from start to finish. San Francisco Bay Area's most experienced Aesthetic Facial Plastic Surgeon and Hair Transplant Specialist, he is the founder and director of California's longest standing office surgery facility and the past president of the International Society of Hair Restoration Surgery (ISHRS). He received his medical degree from the University of Illinois, College of Medicine before serving in the U.S. Army Medical Corps and seeing active duty in Vietnam. Dr. Kabaker has become the world's leading authority on hairline lowering surgery as well as an internationally recognized authority on facial plastic surgery and hair/scalp reconstruction surgery. Today, he serves as the AAFPRS fellowship director of young facial plastic surgeons while delivering satisfactory results to his patients. To book a consultation with Dr. Kabaker, contact his office located at 3324 Webster Street in Oakland, California by calling (415) 379-9015.