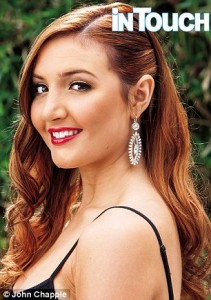 Ashley Horn, the 18-year-old estranged half-sister of Lindsey Lohan, recently underwent five procedures with a facial plastic surgeon that were designed to make her look more like her famous sister. With surgeries ranging from a nose job to a reduction of the skin and fatty tissue under her jawline, the total price tag for her surgeries came to over $25,000.
Other family members suggest Ms. Horn underwent the surgeries in hopes of following in her sister's footsteps and launching a singing career. She states she's happy with the results and feels she's even "hotter" than her sister now.
The Procedures Ashley Horn Underwent
Ashley Horn admits that she had injections in her chin and upper cheeks in order to add volume. She also claims that she had work done on her jawline and lower cheeks to make those facial features stand out.
The rhinoplasty is the more pronounced of the facial cosmetic procedures performed on Ms. Horn. Before the surgery, her nose had a slight hump along the bridge, and it appears that was what she wanted corrected with this surgery.
What is Rhinoplasty?
Rhinoplasty, or a nose job, is a surgical procedure that can change the shape and size of a nose. It can also change the function of a nose. For people who have problems breathing, often because of a deviated septum, rhinoplasty is an effective solution.
During a rhinoplasty, incisions are made either on the column of skin between the nostrils or within the nostril itself. The surgeon carefully lifts the skin and gets to work trimming cartilage and possibly bone until the nose's new shape is in place. This entire surgery can take up to four hours to complete. Once the rhinoplasty is complete, the incision is closed and healing begins.
After a short recovery in the recovery room, patients go home. For the next day mild discomfort is typical, but pain medications provided by the doctor help alleviate that discomfort. Drainage from the nose is common, and it's important to dab it away and not blow the nose. Bruising and swelling on the cheeks are normal and last about a week. Swelling on the top and tip of the nose is also common. This takes the longest to disappear, usually two weeks for the top of the nose and months for the tip. Until all swelling subsides, you will not see your nose's final shape.
Reasons to Undergo Facial Plastic Surgery
When undergoing facial plastic surgeries, it's important to get work done that you want. If your goals are to mimic a celebrity or please a family member or friend, take time to make sure you are pleasing yourself and not others. Also, avoid the surgery if your goal is to make someone like you better or draw attention from people who ignored you before.
According to the American Society of Plastic Surgeons, there are two, and only two, reasons you should get plastic surgery. They are:
To correct a physical defect or flaw that affects your self-esteem.
To improve a physical characteristic that bothers you.
If those two situations do not describe your reasoning for the surgery, talk to a board-certified plastic surgeon about your goals and listen to his or her advice.
It's important to remember that Ashley Horn is only 18, and at that age many teens want plastic surgery to fit in with their peers. Parents need to really discuss the risks and benefits of plastic surgery with their teen and make sure it's the best decision for all. The American Society of Plastic Surgeons offers a guide to Plastic Surgery for Teenagers [http://www.plasticsurgery.org/news-and-resources/briefing-papers/plastic-surgery-for-teenagers.html]. If you or your teenager still wants to go ahead, choose a board-certified plastic surgeon and check his or her qualifications.
Dr. Sheldon Kabaker is board-certified in otolaryngology and facial plastic surgery. He was the first plastic surgeon in California to routinely perform open rhinoplasty. He also specializes in facial rejuvenation surgeries. Arrange a consultation with Dr. Kabaker by calling the Oakland plastic surgeon at (415) 379-9015.