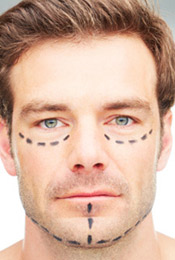 The American Academy of Facial Plastic and Reconstructive Surgery reported a 27 percent increase in the number of men seeking Botox Cosmetic treatments in 2012. It's clear that when it comes to looking good, men are not afraid to seek non-surgical solutions for facial creases, lines, and wrinkles.
With more men standing up and seeking a safe, effective technique to improve their facial aesthetics, it's not surprising that men are also asking questions. Here are some of the more common Botox questions and their answers.
How Does Botox Work?
Botox works by relaxing the nerves that control muscle contractions. By restricting the nerves from releasing messages to the muscle, Botox causes the muscle to become temporarily paralyzed. As the muscle relaxes, lines smooth out as the facial tissue relaxes.
What Can Botox Cosmetic Improve?
Botox is used in a variety of ways. It's useful in treating excessive sweating or helping relax facial muscles that lead to creases, lines, and wrinkles. When it comes to the face, the most common treatment areas include creases on the forehead, frown lines between the eyebrows, crow's feet that form at the side of the eyes, lip lines, and bunny lines that appear near the upper nose. Botox Cosmetic is also useful in raising the eyebrows to a more youthful position.
I've Heard Botox is Taken from Botulism. Is it Really Safe?
Botox is derived from the bacterial food contaminant known as botulism. It is extremely safe because the medication contains very small quantities of the bacteria and is purified. The FDA approved Botox as a safe medication, and the main risk you could face is by choosing someone unqualified who is not using Botox Cosmetic that is produced within the United States by Allergan.
What Happens After a Treatment?
Following Botox Cosmetic injections, you may feel a little sore, as you would after any injection. The use of ice can help alleviate any discomfort. You should avoid strenuous activities for six hours. Otherwise, your facial plastic surgeon will not require you to rest or avoid going to work or social events.
How Long Do Results Last?
Most patients report improvements that last up to five months.
What Happens if I Decide Against Touch-Up Injections?
The longevity of a Botox treatment is different in everyone, so you might not notice many changes for months. Eventually, the lines and creases you had prior to Botox injections will return. They will not be more pronounced or suddenly appear overnight.
Read Dr. Sheldon Kabaker's Botox Question and Answer page to learn more about this leading non-surgical option for reducing the signs of aging. Located in the San Francisco Bay Area, Dr. Kabaker is easily accessible to those living in and around Oakland, California. Dr. Kabaker started his private practice in the 1970s and stays current with the latest techniques by continuing his medical education every year. Schedule a Botox consultation with the Oakland facial plastic surgeon at (415) 379-9015 or by completing the online consultation form.