Julie Chen, host of CBS's The Talk, revealed a secret during the September 11th show. Close to two decades ago, while working for a news station in Ohio, she approached the news director about filling in for the channel's anchors. His response stunned her. "…because of your Asian eyes, sometimes I've noticed when you're on camera and you're interviewing someone, you look disinterested. You will never be on the anchor desk, because you're Chinese."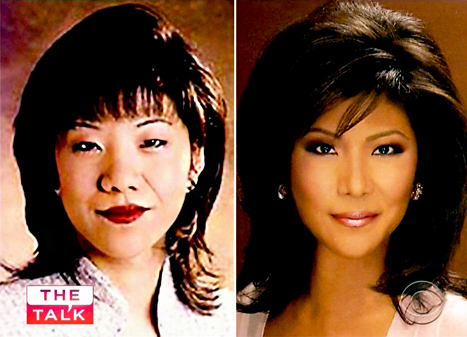 Ms. Chen began hunting for a new job through an agent. He told her the same, but added "I cannot represent you unless you get plastic surgery to make your eyes look bigger."
While she had agents and employees telling her to undergo plastic surgery, Ms. Chen also had her family threatening to disown her if she turned her back on her Asian heritage. Eventually, she decided to undergo blepharoplasty, and her career took off. She does wonder if she caved to pressure, but she states she does not regret the decision that jump-started her career.
What Happens During a Blepharoplasty?
There are two types of eyelid surgery: upper eyelid surgery and lower eyelid surgery. One involves removing a small section of skin and muscle from the upper eyelids. The incision is made in the crease to hide any scarring. The other involves the removal of fat and possibly a small section of skin from below the eye on the lower lid. With this surgery, incisions are made either on the inside of the eyelid or along the lower eyelashes. Eyelid surgery can improve sagging upper eyelids and puffy under-eye bags.  In Ms. Chen's case, the surgery was able to open up her eyes to make them appear less Asian.
When you arrive for your consultation, your plastic surgeon will go over the procedure with you. Expect to answer the plastic surgeon's health questions to make sure you're a good candidate for the surgery. You'll discuss what you dislike about your eyes, what can be done, and the rules you must follow before and after the surgery. You may go home and think the information over and even return for a second consultation if you have additional questions.
On the day of the surgery, you'll be given a light sedative and local anesthesia. If you're having more than eyelid surgery, general anesthesia may be used instead. The surgeon needs one or two hours to perform the eyelid surgery and then you will be in the recovery room for about an hour as the effects of the anesthesia wear off. After that, your friend or family member drives you home where you will rest and recover from the surgery.
The recovery takes about a week. You return to the plastic surgeon to have stitches removed in five to seven days. After a week, you can resume light activities, but you need to refrain from strenuous activities for three weeks. During the recovery process, you'll experience some mild discomfort, swelling, and bruising.
Deciding if Blepharoplasty is Right for You
Blepharoplasty is an invasive surgery that does have its risks. Per the American Society of Plastic Surgeons, the biggest risks are temporary vision impairment, reaction to the anesthesia, difficulty closing the eyes, blood clots, and bleeding. Carefully consider your reasons for wanting the surgery.
Your plastic surgeon needs to make sure that the surgery is something you really want for yourself. Common reasons for eyelid lifts are to improve bags and drooping eyelids that come with aging. Seeking blepharoplasty to stop aging isn't realistic; nothing can stop the aging process. If you are seeking surgery at the urging of others, it's best to hold off and reconsider.
Watch a video about eyelid surgery (http://www.plasticsurgery.org/articles-and-galleries/video-gallery/benefits-of-eyelid-surgery.html) at the American Society of Plastic Surgeons to better understand exactly what happens during blepharoplasty. Once you're ready to discuss eyelid surgery with an Oakland facial plastic surgeon, call Dr. Kabaker's office at 1-800-400-7700. Dr. Kabaker has decades of experience in facial plastic surgery and hair restoration in California.