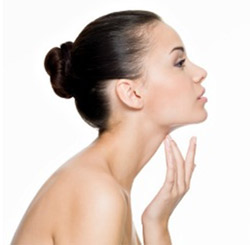 Not every patient can achieve his or her desired surgical results with just one procedure.
In fact, combination procedures are on the rise as many patients across the United States pair together strategic surgeries to get the look they want.
A profileplasty is one type of combination procedure, uniting rhinoplasty with chin augmentation to redefine the patient's profile.
Doing so can improve the patient's overall look as well, even if the changes are subtle. Could profileplasty be the procedure that you need to look your best?
What Does a Profileplasty Involve?
The profileplasty blends the aesthetic changes of a rhinoplasty with the enhancements of chin augmentation. When patients choose to undergo this procedure, they will work with a facial plastic surgeon to plan surgical changes that complement one another. The ultimate goal of profileplasty is to reshape the patient's profile to appear stronger, more defined, or more aesthetically pleasing. While your personal surgery will be customized to meet your own needs, many of the same techniques may be used to achieve your desired look.
What Changes Are Made Through Profileplasty?
Rhinoplasty surgery is designed to change the shape and size of the nasal structure, either for cosmetic or functional reasons. Typically, rhinoplasty may include removal of a hump or bump, changes to the bridge of the nose, the nasal tip, the size or projection of the nostrils, or to the width. Cartilage, bone, and tissue can be added or removed, reshaped and molded into the size and shape that the patient desires. Strategic changes to the nose can balance the other facial features and improve the profile.
Patients with a weak or receded chin may already see imbalance in their facial structure and profile. Changes to the nose could make these shortcomings even more pronounced or make the rhinoplasty seem lacking, so some patients will add chin augmentation to their surgery as a solution. Chin augmentation can be performed in different ways depending on the needs of the patient. Most often, a chin implant will be used to change the size and projection of the chin, balancing it with the patient's new nasal contour and giving the facial features greater harmony. For the right patient, blending these procedures together can create very dramatic and positive results.
Why Is Facial Harmony Important?
When two people interact, they connect through their facial expressions and learn to recognize one another by their appearances. A person's attractiveness, trustworthiness, personal strength, and many other attributes are often inferred by how they look to the rest of the world. When your features are imbalanced or out of sync, others might perceive you in a way that isn't accurate. Like it or not, our appearances are speaking for us in many ways, each and every day.
Facial harmony has become a major factor in how people evaluate one another. Large noses or weak chins can distract us from seeing each other in a positive light. A poorly balanced profile could undermine your strong leadership abilities at work or convey an unwanted message during your social interactions. Rhinoplasty surgery and chin augmentation together can reshape an imbalanced profile for the better, creating the harmony among your features that tells others who you really are. With a strong chin and well-sculpted nose, you'll be perceived as a much stronger and more confident man or woman.
Why Combine Rhinoplasty and Chin Augmentation Into One Surgery?
The idea of two surgeries at once might seem overwhelming to some patients, but combination procedures like profileplasty offer some very distinct benefits. These advantages often include:
Saving time with one surgery instead of two.
Saving money with combination procedure discounts.
Saving your energy with only one recovery period instead of two.
Stable, measurable results that make a difference.
A new look achieved all at once instead of gradually over a longer period of time.
Thorough planning with one facial plastic surgeon to create the new profile you're looking for.
If you'd like to know more about profileplasty and what it can offer you personally, it's time to connect with a board certified facial plastic surgeon. Consider your reasons for seeking this surgery, both with regard to your nasal structure and your chin, and be prepared to talk about what your new profile should really look like.
Learn More About Combination Surgeries at a Consultation
Explore your surgical options for rhinoplasty with chin augmentation or another procedure when you contact an experienced facial plastic surgeon offering these and other treatment options. Let Dr. Sheldon S. Kabaker guide you through the process to plan the right neck contouring procedure for you. As the Bay Area's most experienced Aesthetic Facial Plastic Surgeon and Hair Transplant Specialist, he is both the founder and director of California's longest-standing office surgery facility and the past president of the International Society of Hair Restoration Surgery (ISHRS). He received his medical degree from the University of Illinois, College of Medicine before serving in the US Army Medical Corps and seeking active duty in Vietnam. Dr. Kabaker has become the world's leading authority on hairline lowering surgery as well as an internationally recognized authority on facial plastic surgery and hair/scalp reconstruction surgery. Today, he serves as the AAFPRS fellowship director of young facial plastic surgeons while delivering satisfactory results to his patients. To book a consultation with Dr. Kabaker, contact his office located at 3324 Webster Street in Oakland, California by calling (415) 379-9015.