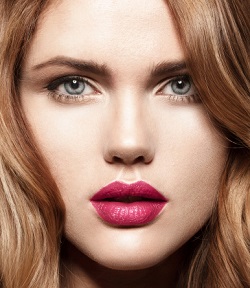 Full lips are all the rage these days, with prominent actresses and other celebrities showing them off in movies, magazines, and red carpet galas alike. While these high-profile faces may garner a constant debate over Did She or Didn't She?, you can reap the beauty benefits without all the controversy and media coverage. Even better, there are so many ways to have a lip augmentation procedure that you'll have your pick of nonsurgical and surgical methods. Consult with a plastic surgeon to discuss your full range of options, but you can begin here to pick up some valuable information while you consider this treatment for yourself.
What Is Lip Augmentation?
Some people are born with thin or undefined lips; others are frustrated by the thinning of their lips as they age. Either way, lip augmentation is a cosmetic procedure, surgical or nonsurgical, performed to add volume to the lips.
Today's beauty industry focuses heavily on dramatic facial features, especially full lips. If you have other distinctive facial features already, enhanced lips can balance your appearance. They can also help combat the effects of aging by diminishing nearby fine lines. Various methods can be used to achieve the perfect augmented lips for you.
Nonsurgical: Enhancing the Lips With Collagen
One tried and true method for successful, natural-looking lip augmentation is collagen injection treatments. During this simple procedure, synthetic collagen is injected into the lips to add volume and softness. Minimal swelling will most likely follow your injection, but can easily be covered with makeup. Many patients are able to receive this treatment and immediately resume their regular activities.
Cosmoderm and Cosmoplast are two varieties of human-derived dermal collagen that are safe to use in the lips as well as to treat wrinkles and scars in other areas of the face, if needed. These collagen formulas have replaced animal-derived collagen injections, which caused high rates of allergic reactions. Because Cosmoderm and Cosmoplast are human-derived, they are more biocompatible and do not require allergy testing prior to your procedure.
If you choose collagen enhancement for your lips, you will likely have to revisit your plastic surgeon for touch-ups. This will help maintain the fullness of your lips as well as the softened lipstick lines. The results of your collagen injection should last three to five months. Admittedly, these injection materials are rarely used these days since the advent of hyaluronic acid products.
Nonsurgical: Hyaluronic Acid Gel Fillers to Plump the Lips
Similar to collagen injections, the facial filler treatment uses hyaluronic acid dermal and deep tissue fillers that are safe to use and will achieve natural lip-plumping results. These products, specifically the brands Restylane and Juvederm, are able to give patients an instant, long-lasting reduction in the appearance of fine lines and wrinkles. Where the lips are concerned, hyaluronic acid is also an effective way to add volume to the lips and better define the lip line. It's very safe to use without prior allergy testing as well, since hyaluronic acid is a protein naturally produced in the human body. The procedure is similar to that of collagen injections, with minimal swelling afterwards but no recovery time. Dermal fillers last about four to six months and can be touched up as needed to maintain results.
Surgical: Fat Injections for the Lips
Fat transfers can be performed nearly anywhere in the body, but are especially common in areas of the face that have lost volume due to the aging process. During a fat injection treatment, fat cells are harvested from elsewhere in the body, cleansed and purified, and then re-injected into the lips to add fullness. The surgical aspect of this procedure lies in the fat harvesting; the actual injection to the lips is nonsurgical in nature.
While fat transfers can be very successful and long-lasting, the results are sometimes unpredictable. Some patients have had the fat reabsorbed into the body, resulting in lost volume from the lips. Because the fat comes from your own body, however, it is extremely safe and hypoallergenic for even the most sensitive patients. Discuss this option with us to determine if you would be a good candidate for this procedure.
Surgical: A Lip Lift to Create Volume
Through the lip lift procedure, you won't need to add anything to your body in order to achieve a better look to the lips. The subnasal lip lift is performed in order to treat elongated, flattened upper lips that result from the aging process. During the surgery, excess skin will be removed beneath the nose and then the lip will be rolled upward just enough to restore a bit of youth to the patient's appearance. This simple act of rolling the lip can reverse years of elongation and thinning. Because this is a surgery, however, you will have some recovery time following the procedure. Mild swelling often accompany a lip lift surgery, and you must give the area time to heal. While some patients might find even a short recovery period to be too much, it's important to remember that a lip lift won't require any touch-ups or boosts; the results are permanent until the aging process catches up.
Surgical: Perma Implants Are the High-Tech Lip Enhancer
Finally, the Perma Facial Implant is one of the latest technologies available to plastic surgeons for use in a lip augmentation procedure. This self-maintaining silicone implant is produced right here in the United States and can be customized to fit the exact shape and volume requirements of your lips. It has a soft texture to it as well, making Permalip implantation a very natural-looking way to enhance the lips permanently. Again, some recovery will be involved following this procedure, but the side effects should only include mild swelling and redness around the treatment area. Discuss your specific questions about the procedure and the recovery time with your plastic surgeon before deciding whether PermaImplants are right for you.
Choosing Your Lip Augmentation Method
There are so many ways to enhance the appearance of the lips that some patients are overwhelmed by all the options. Yet, because there are so many choices, most patients are able to pinpoint the right method for their own needs and personal comfort. People can opt for nonsurgical if they aren't sure they want permanent results yet; they can also go for surgical options to prolong results. Patients have many different reasons for deciding on the lip augmentation treatment that is best for them, so don't feel rushed to choose until you have thought through all your options carefully.
Consult With a Plastic Surgeon Today
For the best results, consult with a credentialed and experienced plastic surgeon about the look you'd like to achieve from your lip augmentation, whether surgical or not. Dr. Sheldon S. Kabaker is an Aesthetic Facial Plastic Surgeon and Hair Transplant Specialist who also offers nonsurgical skincare treatments at his practice. He received his medical degree from the University of Illinois College of Medicine in 1964, before serving in the US Army Medical Corps and seeking active duty in Vietnam. Dr. Kabaker has studied and taught facial plastic surgery internationally in countries such as France, Spain, Italy, Germany, Israel, Mexico, Argentina, the United Kingdom, and Australia. To book a consultation with Dr. Kabaker, contact his office located at 3324 Webster Street in Oakland, California by calling (415) 379-9015.