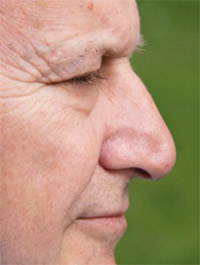 For many men and women, the thin, fine lines that form at the corners of the eyes are the very first signs of aging to appear. Called crow's feet, these lines are subtle at first but will deepen with time as the skin loses elasticity and grows thin. While they may not seem to be a large factor in the appearance of the aging face, erasing crow's feet can indeed create a dramatically more youthful look. If you're looking for a way to get rid of those crow's feet, your facial plastic surgeon can offer a few different options for nonsurgical, aesthetic anti-aging methods.
Banish Crow's Feet With Botox
Although Botox has been around for more than a decade now, estheticians and aesthetic surgeons are still discovering the many benefits of this injectable treatment. In 2013, the FDA approved Botox for a new targeted treatment: to temporarily improve the appearance of moderate to severe lateral canthal lines, or crow's feet. In fact, Botox Cosmetic is the only such treatment approved for use against these lines.
Botox is a naturally-derived substance that can be directly injected into the treatment site, just beneath the skin. It works by temporarily immobilizing the muscles of the treatment area, helping tokeep the skin smooth. When the muscles are frozen like this, they won't crease or wrinkle the skin. Crow's feet and other wrinkles will diminish in appearance as a result. Botox works both as a tool to reverse the signs of aging and as a method to prevent further aging.Not only will your crow's feet seem to vanish after your Botox treatments, they won't deepen or develop any further.
Flatten Crow's Feet With Filler Injections
Also delivered through an injection, fillers are biocompatible formulas that will fill the soft tissue beneath the skin for a smooth, more youthful look. Filler injections work by confronting the two general processes that contribute to an aging appearance: 1. A decrease in the soft tissue and 2. The loosening and sudden inelasticity of the skin, which leads to wrinkle formation and even sagging. Filler injections work by adding volume beneath the superficial dermis. They are safe for even the delicate area around the eyes, where they will gently plump the skin and smooth away wrinkles.
There are many types of filler injections available today, each made with a unique formula and for a specific purpose. Some provide best results in the lips, cheeks, or the area beneath the eyes, for example. Typically, a hyaluronic acid filler will be used to treat crow's feet. Talk to your facial plastic surgeon about the leading brands Juvederm and Restylane to choose the right filler for your needs.
Laser Treatments to Lessen Crow's Feet
While this method is used less frequently than Botox or filler injections, it can still be useful for some patients in the treatment of crow's feet. Laser skin resurfacing is a nonsurgical treatment that removes the outer, damaged skin cells to leave a softer and smoother complexion behind. The more gentle the laser, the better and safer your treatment of crow's feet will be. Repeated treatments can gradually eliminate the look of fine lines around the eyes.
Other skin resurfacing techniques can also be used, including chemical peels and dermabrasion. Each of these works in a similar way, by removing dead and damaged skin cells to reveal the healthy cells below. Techniques such as these are best suited for patients at the early stages of aging, with minimal fine lines and wrinkles present. To learn more about which methods would provide the best results for your needs, consult with an experienced facial plastic surgeon offering a wide range of nonsurgical treatments in his clinic.
Contact a Facial Plastic Surgeon to Reverse Crow's Feet
Explore your nonsurgical skincare treatment options when you contact an experienced facial plastic surgeon. Let Dr. Sheldon S. Kabaker guide you through the process to plan the right procedure for you. As the San Francisco Bay Area's most experienced Aesthetic Facial Plastic Surgeon and Hair Transplant Specialist, he is both the founder and director of California's longest standing office surgery facility and the past president of the International Society of Hair Restoration Surgery (ISHRS). He received his medical degree from the University of Illinois, College of Medicine before serving in the U.S. Army Medical Corps and seeing active duty in Vietnam. Dr. Kabaker has become the world's leading authority on hairline lowering surgery as well as an internationally recognized authority on facial plastic surgery and hair/scalp reconstruction surgery. Today, he serves as the AAFPRS fellowship director of young facial plastic surgeons while delivering superior results to his patients. To book a consultation with Dr. Kabaker, contact his office located at 3324 Webster Street in Oakland, California by calling (415) 379-9015.