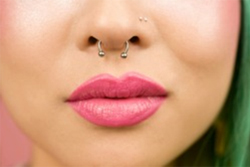 Rhinoplasty surgery can be designed to change the shape, size and structure of the nose in many ways. Some prospective rhinoplasty patients, however, may have already made some changes to their noses by way of nasal piercings. If you have had any type of nasal piercing in the past, it could affect your rhinoplasty procedure. Piercings can be cause for special considerations before, during, and after your surgery. Read on to learn more about the relationship between nasal piercings and rhinoplasty.
Nasal Piercings Before Your Rhinoplasty
After you have had your nose pierced, scar tissue can form around the hole and make it difficult to close again. Many men and women with piercings through the cartilage may notice that it can take years to heal over and close up again, if at all. This can pose an obvious problem if you're hoping to take out that piercing without leaving any evidence behind. Some prospective rhinoplasty patients might look to have this problem corrected as a part of their surgical procedure. But is this something that your facial plastic surgeon can do?
The good news is that this is a fairly simple fix for your surgeon. As he or she works to restructure the bone and cartilage of your nose and achieve your desired aesthetic results, it is easy to incorporate changes to the nostrils as well. Piercing holes and scar tissue can be surgically excised and closed, leaving very little evidence behind, if any at all. Talk to your facial plastic surgeon today about any past piercings that you'd like to have closed or repaired. He or she can give you a clear idea of what kinds of results to expect based on your surgical needs.
Your Nasal Piercing During Rhinoplasty
Many prospective rhinoplasty patients who have nasal piercings are concerned that it will interfere with surgery. Even if you're planning to keep your piercing after your surgery, your facial plastic surgeon can work around it. Nasal piercings tend to be placed close to the edge of the nostrils straight through skin and cartilage, which doesn't need to factor into your surgery. Cartilage can be reshaped to achieve certain results, but your surgeon will be able to work around piercings that you want to preserve.
Your rhinoplasty surgery can be performed in one of two ways: open or closed. A closed rhinoplasty surgery begins with incisions placed inside the nostrils where they cannot be seen. If you have a nasal piercing, your surgeon can place incisions that won't interfere with the hole. Open rhinoplasty will also include a small incision placed underneath the nostrils on the underside of the nose. If you have a nasal piercing, an open rhinoplasty won't affect the piercing area.
With your incisions placed, your nose can be altered as needed to achieve the results you want. From reducing a nasal hump to reshaping the nasal tip, your rhinoplasty can include many changes to your nose. During your rhinoplasty consultation, talk about your piercing so you can be completely prepared for surgery. In some cases, the location of your piercing can shift a small amount, so it's worth discussing ahead of time so there are no surprises.
Handling Your Piercing During Rhinoplasty
Before surgery, your nasal piercings should be removed and left at home. This may even be included in the pre-operative instructions given to you by your facial plastic surgeon to help you prepare. Leaving the piercings in during surgery can pose many risks and could lead to complications. The jewelry can come loose and enter the airway, get caught and cause tearing, and other issues. It's better to discuss your piercings with your surgeon beforehand and then leave them at home on the day of your procedure. Your surgeon will work around them if you ask and the holes aren't in danger of closing during that time.
Replacing Your Piercings After Rhinoplasty
A successful recovery period after your rhinoplasty surgery is essential to seeing the results you want. During this time, following your facial plastic surgeon's instructions can keep you safe and healthy while reducing your risks for complications. If you have a nasal piercing, you won't be able to wear it again until the area is fully healed. The same goes for adding new piercings to the area. You must discuss this with your surgeon to make sure you won't do any further damage to the area.
While your nose is healing, the cartilage and tissue will be soft and malleable and could be damaged if your piercings are replaced too early. Your cartilage will take some time to heal before it is strong enough to withstand the pressure of a piercing gun or the metal of your piercings. Nasal rings and studs can be a danger, especially if your piercing gets caught on your clothing and pulls. It's best to wait a full eight to 10 weeks before replacing any piercings or getting new ones. Talk to your facial plastic surgeon about the timeframe you should expect after surgery.
Plan Your Rhinoplasty Procedure Today
Consult with a facial plastic surgeon to plan your piercing-friendly rhinoplasty procedure. Let Dr. Sheldon S. Kabaker guide you through the process to plan your rhinoplasty from start to finish. As the San Francisco Bay Area's most experiences Aesthetic Facial Plastic Surgeon and Hair Transplant Specialist, he is both the founder and director of California's longest standing office surgery facility and the past president of the International Society of Hair Restoration Surgery (ISHRS). He received his medical degree from the University of Illinois College of Medicine before serving in the US Army Medical Corps and seeing active duty in Vietnam. Dr. Kabaker has become the world's leading authority on hairline lowering surgery as well as an internationally recognized authority on facial plastic surgery and hair/scalp reconstruction surgery. Today, he serves as the AAFPRS fellowship director of young facial plastic surgeons while delivering satisfactory results to his patients. To book a consultation with Dr. Kabaker, contact his office located at 3324 Webster Street in Oakland, California by calling (415) 379-9015.